RESOLUTION!! Make This year our Best Year Yet (Financially Speaking!)
Posted on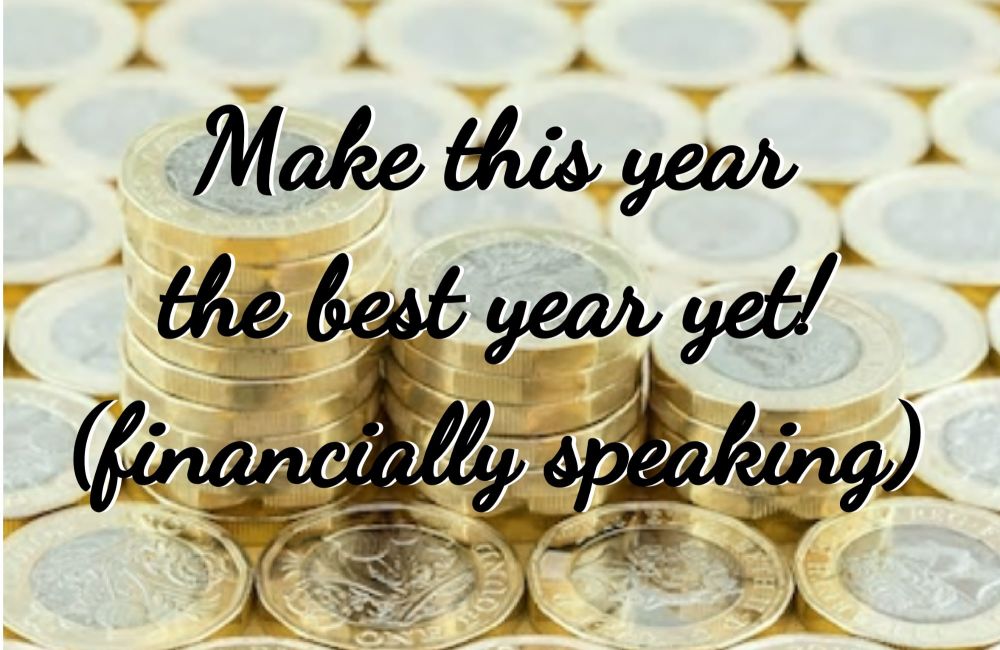 I have a new aim to make my remaining years as easy and stress free as possible, what with a family of demanding boys, who not only seem to have hollow legs but also just refuse to stop growing life can be pretty expensive!! I spent much of last year looking at our finances and I have made a pledge (new years resolution) to make this year the best year yet (Financially speaking!!) Being a WAHM, we need to save where ever we possibly can, without cutting back on life's little luxuries for my family (unless we really need to!) Whilst helping my family I thought I could also help Mummy's and Daddy's by sharing some tips and ways we saved money last year!
I know life is busy and I know it isn't always easy to find the best deals when time is short. But let us all make a pledge for this year to be our best year (financially speaking) Let's attempt to end the year with a huge bulging jar of savings on the top of our wardrobe, or our debt paid off! (or better still both!)
Here is a collation of my top tips and ideas. Utilise this list as much as you can and see where you can create some savings or extra money!
CASHBACK ANYONE?? YES PLEASE!! - So first (and definitely most important in this household) is Quidco.com! This site is amazing! We are in an era where most of our shopping is completed online, whether it be for Christmas, Grocery shopping, Birthday gifts or that much needed party dress at the weekend. This fantastic site gives you cashback with most retailers we know and love, like Very, Asos, Ebay, Amazon and Argos! You get cashback with EVERY SINGLE online shop you do, providing you access the retailer's website through Quidco. All you need to do is to sign up for free here and use the site to visit the websites and retailers you normally would, shop and checkout as normal. I made £250 cashback in just 6 months, just by using this site to shop as I normally would. Imagine what £250 would buy you? I plan to use quidco to do my weekly food shop next year. I want to triple that figure!! Don't shop online without it! You can 'cashout' your cashback whenever you want to. You have a number of options, through Paypal or as shop giftcards (if you opt for giftcards quidco offer additional 'topups' of an extra 2% to 25% depending upon the retailer. Earn £100 in cashback, you could get £125 in giftcards.) I tend to save all my cashback until the Christmas spending period and it pays some way towards Christmas! Pssst. Use my links here and you will get an additional £10 once you hit £5 from Quidco!
WIN BACK MY PURCHASES?? Boom25 is a cashback site, but with an interesting twist. Most cashback sites give you a fixed cashback amount or a % of your purchase. These amounts vary but for many retailers you can expect cashback in the 1-5% range, sometimes higher if you're a new customer. Well, with Boom25 any purchases you make through Boom25 gives you the potential to win up to 100% cashback! What's more, there's a decent *1 in 25 chance* of getting the full amount back. Given sometimes, the cashback on other sites, is low, it could well be worth a shot. As an example, I bought a fridge freezer this year, I could only get 1% cashback of £2.50 wheras I could have won the full £250 back - (At the time of writing I am still awaiting confirmation of my win). With awesome retailers like Ebay, Asos, Amazon and Argos avaliable to boom and giftcards for Amazon, Tesco and Currys You could be well on the way to some fab winnings! Just click here to sign up with Boom25.
Additionally, another tip for you and to utilise Boom25 further. If you shop for your groceries at places like Asda, Tesco, Waitrose and some others, you can buy your giftcards weekly, to use in store against your food shop. Lets say you shop Tesco weekly, and purchase your giftcards through Boom25. At the time of writing Tesco was at a 1 in 18 chance of winning your purchase back. This means that over a year, law of averages could mean you win 3 or 4 of your weekly shops back! How can you turn that away. Especially as you currently earn no cashback from Quidco for shopping in store!
MATCHED BETTING This is more 'money making' than money saving, but this is definitely a winning formula and has been a TOTAL GAMECHANGER for my family in the small period I have been doing it (at the time of writing that is 2 weeks) Just as a sidenote, If you weren't already aware, Profit Accumulator is the UK's largest and most popular Matched betting site. You CAN do matched betting your self, but for beginners, I recommend using Profit accumulator as your guide.
If you haven't previously heard of Matched Betting, it's a method of exploiting bookmakers and online casino promotions to create profit. Initially, as a new member of matched betting, you would start by profiting from the bookie's free bet offers, But, you will quickly see there are multiple other ways to profit and make tonnes of money once you get into it. It's important to say from the offset that matched betting is not gambling - It's about making a profit from freebies and offers.
How does it work? Essentially Profit Accumulator holds your hand through the steps and is a complete guide on how to match bet - with a step by step process on completing bets and generating offers. In just 2 weeks I have cleared a STAGGERING £325 of profit and I have only completed 10 of the beginner offers. There are (as I write) over 330 offers to take advantage of with reload offer that happen daily or weekly. It takes me 30 minutes each evening to do - That is not a bad hourly rate!
Profit Accumulator's Training Center, guides and support, including over on their Facebook page are amazing, in my opinion, making Profit Accumulator the best platform for beginners to matched betting! Click here to go straight to the site! You will see a few free offers to try to begin with. These initial offers will generate you profit of about £45!
EXTREME COUPONING- This has become an exciting new venture in our house hold!! Coupons really are everywhere! LIKE REALLY!! Hunt them down! Find them in newspapers, or magazines, through the post with your loyalty cards and pick up the free supermarket magazines you get. I shall post about how we do this in further detail in another post but for now here are a few sites I regularly use to print off discount codes and vouchers. I use these alongside the coupons I find in magazines and papers and the mail we get through the post. We tend to save around £20 to £30 a week on our grocery shop on average. But add to that, the money we save in restaurants using buy one get one free vouchers in Prezzo's or Pizza Express and vouchers and quidco cashback used at Christmas and Birthdays we save ourselves quite a few pennies over the year.
http://www.freestuff.co.uk/printable-vouchers/shops/ a massive round up of 1000's of vouchers enjoy!!
http://www.victoria.co.uk/coupon-offers a Procter & Gamble owned website that has coupons for P&G products, including toiletries, pet food and cleaning products.
https://www.supersavvyme.co.uk/smart-shopping this has a small selection of coupons for brands we all know and love.
http://www.caringeveryday.co.uk/ owned by Johnson & Johnson, offering a range of health care products. It has new coupons about once a month.
https://www.vouchercodes.co.uk/instore-vouchers vouchers and discount codes for tonnes of retailers with a handy app to shop in town with.
https://www.vouchercloud.com a selection of codes and discount vouchers to be used in a huge selection of retailers
If you play it correctly, by using the Quidco site first, to access your chosen retailer, then by use your coupon codes at checkout and look for free delivery codes or £5 off for a £40 spend you really can save yourself some money with cashback and money off!
THE HAPPY MAIL BAZAAR- This is definitely my favourite little community (both for making money if you are a crafter and saving money if you are a buyer) just head here to the Happy Mail Bazaar on Facebook. The concept behind this group is about showcasing beautiful art and gorgeous handmade items, and making these works and artists accessible to everyone! Twice a week, (on a Wednesday and a Sunday,) a small selection of the many crafters and small businesses who list on there, offer vouchers towards their unique and original handcrafted items. There will always be a limited number of vouchers avaliable (maximum of 25), with each voucher costing £2.28. This guarantees you money off with each company. You then have the chance to win that item too, made just for you. Something worth well in the region of £50, may be yours for just a little over £2!! I have listed a few times and bought a few times and love this concept. There are many groups that offer this for all sorts of goodies, but this is my fave as you really do find some amazing and alternative gifts on there!!
REFUNK MY JUNK - If any one in your family is a little bit creative or crafty, this is the perfect way to generate a little bit of income this year. Purchase old furniture, clothes, ornamnets or frames, (from charity shops, Gumtree or car boots) or use stuff lying around at home and give them a totally new lease of life! Then resell your beautiful new creations on handmade sites likeEtsy or Ebay or use your local facebook selling sites. There is quite a huge market for 'shabby chic' and the repurposing of old furniture and peices. Be inspired!! You can go as simple as giving that table a new lick of paint, and bringing it back to life or go crazy and make an old pallet into a headboard. Just tap into your creative mind and see where it takes you! (click here to get 40 free listings to try Etsy!)
SELL YOUR CRAFTS FOR PROFIT - This follows on from the previous idea. Crafting is a huge industry and the United Kingdom has become a place where we really do appreciate the independent sellers and the 'Made in Britain' tag. It is also becoming more and more online shopping orientated. The web is an amazing place and you can sell your beautiful creations to people all over the world, on sites like your own stand alone website (use create.net which is a cheap and easy website to build your portfolio) or an online site like Etsy which happens to be the perfect online marketplace for handmade pretties. Turn your hobby into a business and show the world what you can do! So pull out your knitting needles or your dusty sewing machine and have a go! What have you got to lose! (click here to get 40 free listings to try Etsy!)
ONE MAN'S JUNK IS ANOTHER MAN'S TREASURE - Outfit's too small? Clothes still have the tag? Just don't wear it any more? Toys no longer played with? Perfume's that don't agree with you? SELL THEM! Certain things sell really well on ebay or your local facebook sites and you can make a few extra pennies on those things whilst decluttering your house! Anything that is vintage, or that can be used as craft supplies sell amazingly on Etsy and anything big and bulky or those used toys sell really well at car boot sales or local table top stalls. If you keep a collection of old unused stuff throughout the year and then have a massive clear out before Christmas (October/November time) and sell everything at your local market you can generate a bit of money for when Santa visits!!
EXTRA TIPS –
PAY OFF DEBT FIRST - Debt is definitely an expensive way to spend and if you have a credit card with say £1000 on, your yearly interest over a year could be as much as £300! Save that money by paying off the debt first and foremost as quickly as you can!
RECYCLE- use sites like MusicMagpie.com to sell your unwanted DVD's Cd's, gadgets, phones and old pc's. This will definitely generate a few extra quid!Can you believe they have even started to buy BOOKS! Get a box of stuff in the post NOW!!
LOYALTY CARDS - Sign up for EVERY loyalty card you possibly can… I currently have over £600 sitting pretty on loyalty cards for when I need them (rainy day funds, Christmas, birthdays, or just treating myself) They also send coupons to your house monthly and with some loyalty cards you get extra treats like freebies and free food or coffee! (Ikea, Boots, Co op, Nectar, Superdrug, Tesco, Waterstones, Starbucks, Debenhams, House of Fraser, B & Q, Pets at Home)
COMPARE THE MARKET- Utilise these amazing comparison sites to ensure you are getting the best deals from your utilities, insurances and bills. If not!? SWITCH, SWITCH, SWITCH!! Find the cheapest deals then use Quidco to purchase these utilities and get more cashback. Companies like Sky and EE can get you £150 cashback straight away!
ALERT! ALERT! My favourite cashback site Quidco now offers a comparison service! So you can compare your prices for utilities, household bills and insurances and see how much cashback you can get at the same time!! This year not only have I slashed my Car insurance in half, I have an extra £160 in cashback!
FIVERR - Good at something? Have a little knowledge in an area? Advertise and sell yourself and your skills! Use fiverr to sell your services whilst making a little bit of money on the side! Maybe you are good at graphic design? Or can write poems, sell yourself! Maybe you can translate into 30 languages or are good at social media? Sell Yourself!
COUNT THE PENNIES AND THE POUNDS WILL COUNT THEMSELVES!! - This philosophy does not come second nature to everyone, (including the Mr Man) and it takes some practice. I genuinely believe the small streams of money adds up. So whether that means 1 penny here and 50 pence there, it all adds up to big money. Get a big whiskey jar or those tins you have to open with a can opener and save those coins. Cash it in at the end of the year and save it or put it towards Christmas!
BUDGET - Now - everyone has a different budget, a different way of doing things and even a varying size of budget. How does this work for me? All my bills are on Direct Debit which is fine and I food shop once a week, but aside from that (as a rule) I don't need to use my debit card in the week so I set myself a weekly budget of 'extra spends'. In my case £50. I take this cash out on Monday and don't use my debit card in the week at all! If I run out - TOUGH! But as a rule I don't spend all of it - The spare coins always go into my coin jar and notes go into an envelope as a rainy day fund. This spare money could go towards treats, Christmas, pesky debt or even a holiday!!
BUY FROM SMALL INDEPENDENT - Now purchasing from small independent businesses not only helps the UK economy, but it gives you more of a chance to get discount codes and money off from gorgeous independent companies. Don't be too greedy and expect too much but ask whether they have any codes available. Even a 5% or 10% off helps your back pocket, while guaranteeing you get a gorgeous unique item from a beautiful small retailer! Etsy, notonthehighstreet and not your ordinary gift are great places to visit! Don't be afraid to ask if you need to, I personally advertise all my coupon codes online publically at OliHarri Creations but obviously, some retailers you will need to ask if they have any codes or discounts.
Now i need to stop rambling but I do hope you have taken away some ideas with you, and find some things you can put into practice easily this year! Now what are you going to do with all that money you haven't spent!? SAVE IT!! Set up a standing order with your bank to move money from your current account to your savings account. Set it up weekly or monthly, whichever is easiest. But just send over however much you can afford £5, £10 even £20 a week!! Because I utilise everything above I manage to save £20 a week into a rainy day fund.I don't even miss this money! This equates to £1040 a year into this account alone. But even if you save just half that, that is still £520 saved a year! Imagine that? Christmas is paid for, or a nice weekend away in January, or a nice fund for if the boiler breaks or the car needs some love!! Add that savings to the money sat in your paypal from selling your unwanted goodies online and your cashback generated from Quidco and you have smashed next year financially!